In honor of the Twilight Saga Eclipse movie coming out on the 30th (I shall be going on the 29th of course :P ), I want to give all those die-hard Twilight fans out there a chance at an awesome contest!
May and June have been very busy months, with a lot of new books coming out and me trying to find a place to put them all! I think it's time to start thinking about a new bookshelf btw!
A while back I stumbled across two AMAZING twilight bookends for my shelf! They were originally $50 for the set but I ended up getting them for like $35! :) Yay me! Anyway, while in the frantic stage of sorting out my bookshelves, I realized I have no room what so ever for them anymore.
My loss is another one's gain, right??


With that said...up for grabs are two Twilight Breaking Dawn inspired chesspiece bookends, the new book from Stephenie Meyer, The Short Second Life of Bree Tanner and the Eclipse: Collector's Edition!
Winner #1 -
Bookends and The Short Second Life of Bree Tanner book
*Contest Rules*

*There will be

TWO

lucky winners.
*Must be 13 or older to enter.
*Deadline will be August 1, 2010
*NOT international, sorry.



Fill out THIS FORM to enter!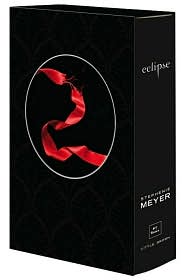 --------------------------------------------------------------

(Please only enter through form and not comments!)


This once-in-a-lifetime-offer will be available only until August 1, 2010!


*NOTE* I might extend the contest, depending on how many people have actually entered.

What!? You want to be able to get extra entries?? ...Okay! Of course!
Extra Entries:
+2 for being a follower
+2 blog post
+1 link anywhere else
(BTW Im so glad I bought the Twilight perfume when it first came out, because its more than $130 now! ^.^ Wheww! Ha even though it smells like air freshener!)