YAY! The first annual (hopefully)
YA Spooktacular: Tales From Under the Grave
starts this Friday. We are so excited. Now it's time to share some awesome information with you.
What is the YA Spooktacular? Stories! We have compiled TWO spooky YA stories by some of your favorite authors, debut authors and aspiring writers. You will get to trick-or-treat to other blogs and follow the story of your choice--or even both stories! At the end of the stories, you will have a chance to enter to win a grand prize pack! (We will even have a Book Depository gift card for international participants to win!)
Beware. Some of the blogs may contain a
"Trick"
or
"Treat"
along the way. These ToTs will give you the chance to earn extra entries into the grand prize giveaway and to win some more great prizes! Some of them will require nothing and some may cost.....your soul! muahhahahaha.
Ok. Not really. But the tricks are tricky! It's going to be a blast.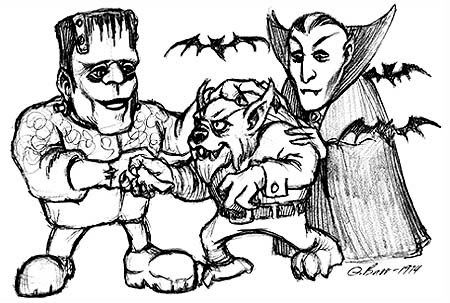 The rules are pretty simple:

*You must comment on EVERY post in a story to be eligible to win the grand prize pack.
*You MAY enter for both stories.
*The forms are a must to be entered.
*Winners will be selected at random.
We're so pumped about this event. We hope that you are too! Follow the hashtag on Twitter #YAspooktacular to get teasers that lead up to the story premiere on
Friday, October 22
. The last pieces of the stories will be posted on the
28th
. The prize packs will go up on the
29th
and the contest closes on the
31st
. Basically, clear your calendar!
_____________________________________________________



Here is the list of bloggers that are hosting the parts of the story for us! You can follow them to make sure you are ready for the story.


http://frenzyofnoise.blogspot.com/
http://readingorbreathing.blogspot.com/
http://agoodaddiction.blogspot.com/
http://booklabyrinth.blogspot.com/
http://onceuponareview.blogspot.com/
http://papaerbackdolls.blogspot.com/
http://ataleofmanyreviews.blogspot.com/
http://thesecretlifeofabibliophile.blogspot.com/
http://booksandmakeup.blogspot.com/
http://tickettoanywhere.net/
http://yaaddict.blogspot.com/
http://mundiemoms.blogspot.com/
http://www.goodbooksandgoodwine.com/


http://www.pageturnersblog.com/
http://www.fallenarchangel.com/
http://yabreviewed.blogspot.com/
http://virginsheets.blogspot.com/
http://yabookiemonster.blogspot.com/
http://cladestinesanctuary.blogspot.com/
http://thesecretlifeofabibliophile.blogspot.com/
http://goddessofthelibrary.blogspot.com/
http://thebookscoop.com/
http://overflowingshelf.blogspot.com/
http://christinasbooks.blogspot.com/
http://www.readingteen.net/
http://abookadventure.blogspot.com/