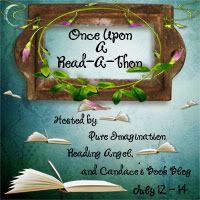 Today the
Once Upon A Read-a-Thon
has started!
I'm excited because it gives me a lot of motivation to try and read as much as I can!
For the Read-a-Thon, I have decided to try and read at least 5 YA debut novels.
And I'm also going to try and participate in all the mini-challenges!
Mini-Challange #1
1. From Book Crazy:

We all have a favorite book, right?
We all have a favorite character, right?
What I want you to do, since I am a lover of all things music and photo related is to pick one - or both - and put them together!!
Does that make sense? HMM, lets see if I can explain better, basically pick your favorite book and/or character and pair it with a song and/or photo that reminds you of the person or setting in the book!
For this challenge, since I don't have an absolute favorite book, I will talk about one of the books of 2010 that left me on my toes, holding my breath, and kept me up in the late hours of the night.

That book would be
The Iron Daughter
by Julie Kagawa!
I recently finished this amazing book that I recived as a Galley from the publisher and just like the first book in the series, I was left wanting more!
This book has easily got to be in the top of my favorite books of all time.
I think my favorite setting in this book would be inside the Unseelie Court.
For some reason, I imagine the Unseelie Court being like the Ice Hotel in Quebec.


Now my favorite character....Rowan!
Yes! Rowan! Don't get me wrong, I love Ash, but Rowan...mmm he's a bad boy, older, and hey, more 'experienced' *fans self* :P
"Rowan's experienced. Most everyone, fey and mortal boys included would give their teeth to have him to themselves for a night."
I think the sexy blue-eyed Ian Somerhalder reminds me of Rowan. His peircing eyes and wicked grin just screams wicked-ice-prince! ;)