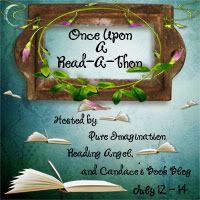 Today is the first day of the
Once Upon A Read-a-Thon
!
I'm excited because it gives me a lot of motivation to try and read as much as I can!
For the Read-a-Thon, I have decided to try and read at least 5 YA debut novels.
And I'm also going to try and participate in all the mini-challenges!
Today I have finished 2 books!
Hex Hall by Rachel Hawkins
A Blue So Dark by Holly Schindler
Be looking for my reviews soon!
I will post tomorrow what books I will be reading for Day 2, since i'm going to take a break from reading and work on my blog/reviews! :)