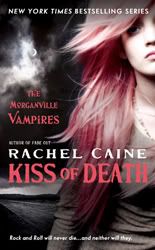 Title:
Kiss of Death
Author:
Rachel Caine
Pages:
256
Published:
April 27, 2010
Rating: *****Summary:
Vampire musician Michael Glass has attracted the attention of a big-time producer who wants to cut a demo and play some gigs-which means Michael will have to enter the human world. For this, he's been assigned escorts that include both a dangerous immortal as well as Michael's all-too-human friends. And with that mix of personalities, this is going to be a road trip from hell...
My thoughts:

In her eighth book of the

Morganville

Vampires series, Rachel

Caine

delivers yet another fast-paced book. And i LOVE it! One of the best things about this series is the continuity. I love how fast-paced the books are, none of this "Two days later, or A week later

nonsense

" in the series!
In Kiss of Death, Claire and her friends get temporary passes out of

Morganville

but have to be escorted by the nasty Oliver. The trip soon goes sour when Oliver decides to make a pit-stop in the middle of nowhere. Trouble as usual occurs, but it only gets worse when they end up in a small isolated town full off blood-thirsty vampires! To make things even more worse, Morley and his crew (having been promised passes out of Morganville) show up and take Claire, Eve and Shane hostage to use as their walking blood banks. In order to save the town and themselves from Bishop's blood-thirsty vampires, Claire and the gang must team up with Morley and try to either give the vampires the cure or destroy them.
Kiss of Death ties up a few things from the previous book and is a great transition book, setting up many of the

storylines

for the ninth book, Ghost Town (out November 2010). Rachel

Caine's

Morganville

Vampires is by far my favorite series! It is a MUST READ! :)